Significant 1985 Terrorist Incidents  Involving U.S. Citizens
The Growing Threat of Terrorism
U.S. Policy and Response to Terrorists
RANGE OF RESPONSES TO TERRORISM
Alleviating Causes of Terrorism
U.S. RESOURCES FOR COMBATTING TERRORISM
PERSONAL AND PHYSICAL SECURITY
FEDERAL AGENCIES' ROLES IN COMBATTING TERRORISM
CONSIDERATIONS IN DETERMINING RESPONSES
The Role of Congress in Combatting Terrorism
Viewpoint of the American People
Task Force Conclusions and Recommendations
NATIONAL POLICY AND PROGRAM RECOMMENDATIONS
Policy Criteria for Response to Terrorists
Establish New National Security Council Position
Review American Personnel Requirements in High-Threat Areas
INTERNATIONAL COOPERATION RECOMMENDATIONS
Pursue Additional International Agreements
Impose Sanctions Against Vienna Convention Violators
Evaluate and Strengthen Airport and Port Security
Establish a Consolidated Intelligence Center on Terrorism
Increased Collection of Human Intelligence
Exchange of Intelligence between Governments
Make Murder of U.S. Citizens Outside the Country a Federal Crime
Establish the Death Penalty for Hostage Murders
Form a Joint Committee on Intelligence
Establish Additional Incentives for Terrorist Information
Prohibit Mercenary Training Camps
Stop Terrorist Abuse of the Freedom of Information Act
Study the Relationship between Terrorism and the Domestic and International Legal System
Determine if Certain Private Sector Activities Are Illegal
COMMUNICATIONS RECOMMENDATIONS
Expand our Current Support Program for Hostage Families
Launch a Public Education Effort
Appendix I VICE PRESIDENT'S TASK FORCE ON COMBATTING TERRORISM
RESPONSIBILITIES OF PRINCIPAL DEPARTMENTS AND AGENCIES
<![if !supportEmptyParas]> <![endif]>
<![if !supportEmptyParas]> <![endif]>
<![if !supportEmptyParas]> <![endif]>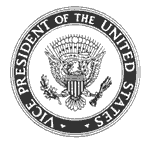 <![if !supportEmptyParas]> <![endif]>
Fellow Americans:
<![if !supportEmptyParas]> <![endif]>
As 1985 closed, the world was shocked by yet another savage terrorist act. The violent attacks at the Rome and Vienna airports left 114 wounded and 18 dead, five of whom were Americans. One was a young American girl of eleven.
Earlier in the year we saw the hijackings of TWA Flight 847 and the cruise ship Achille Lauro, where innocent Americans were brutally murdered by international outlaws. Such vicious attacks are representative of what has become a growing trend toward international terrorism over the past decade.
Concerned about the increasing loss of American lives, as well as repeated terrorist threats against our citizens, last July President Reagan asked me to chair a Cabinet-level Task Force on Combatting Terrorism.
Comprised of 14 senior government officials with major responsibilities for our national program to combat terrorism, the Task Force spent the last half 011985 reviewing and evaluating current U.S. policy and programs.
One of the first things we discovered is that Americans view terrorism as one of the most serious problems facing our government, ranking it alongside such issues as the budget deficit and strategic arms control. They want assurance that the United States is prepared to handle the growing threat of terrorism, that we have a policy and response mechanism in place, and that we are working to improve our system. Our citizens' concern is justified, for terrorism has grown at an alarming rate. In 1985 alone there were 812 international incidents, with a loss of 926 lives, including 23 Americans.
Clearly the growing threat from increased terrorist activities against U.S. citizens and interests abroad calls for a strengthening of our own programs as well as greater cooperation from foreign governments. Domestically, although there were only seven terrorist incidents in the United States last year, the potential for future problems exists here at home and we must be well prepared.
When President Reagan asked our Task Force to review the nation's program to combat terrorism, it was not primarily a mandate to correct specific deficiencies, but one to reassess U.S. priorities and policies, to ensure that current programs make the best use of available assets, and to determine if our national program is properly coordinated to achieve the most effective results.
Our Task Force was briefed by more than 25 government agencies, visited 14 operations centers to observe our capability firsthand, met with over 100 statesmen, military officers, scholars and law enforcement officials, and traveled to embassies and military commands throughout the world where discussions with both U.S. and foreign officials were conducted.
I personally met with many members of Congress, airline chief executive officers, media executives, and former Cabinet officials and diplomats.
Our conclusion: the U.S. policy and program to combat terrorism is tough and resolute. We firmly oppose terrorism in all forms and wherever it takes place. We are prepared to act in concert with other nations or alone to prevent or respond to terrorist acts. We will make no concessions to terrorists. At the same time, we will use every available resource to gain the safe return of American citizens who are held hostage.
Our national program is well-conceived and working. The United States currently has in place antiterrorism activities in virtually every federal department and agency. Specific agencies have been assigned to respond to any threat or attack directed at our citizens whether on foreign soil, here at home, in the air or at sea.
To build on these existing safeguards, our Task Force made a number of recommendations to the President in December 1985. The following public report on terrorism includes those unclassified proposals dealing with improved coordination among government agencies, plus the creation of a full-time position on the National Security Council staff and the establishment of a consolidated intelligence center on terrorism.
The Task Force also is recommending strong Administration support of proposed legislation calling for the death penalty against any terrorist who kills an American hostage. Additional proposals cover increased cooperation with other governments and outline expanded communications programs with families of hostage victims, the media and the general public.
While international terrorism poses a complex, dangerous threat for which there is no quick or easy solution, I believe that the recommendations of our Task Force will significantly improve America's capability for combatting terrorism. As long as vicious attacks continue, terrorism will remain a top priority of this Administration.
<![if !supportEmptyParas]> <![endif]>

<![if !supportEmptyParas]> <![endif]>
<![if !supportEmptyParas]> <![endif]>
<![if !supportEmptyParas]> <![endif]>
<![if !supportEmptyParas]> <![endif]>
<![if !supportEmptyParas]> <![endif]>
February 2       Greece
A nightclub frequented by U.S. servicemen near Athens is bombed. Seventy-eight people are injured including 69 Americans.
April 12            Spain
Eighteen people are killed and 37 wounded when a bomb destroys a family restaurant in a suburb of Madrid. Seven Americans are injured.
June 14            Greece
TWA Flight 847 is skyjacked by Shiite terrorists minutes after takeoff from Athens. The ordeal lasts 17 days. The 145 passengers include 104 Americans.
A U.S. Navy diver is tortured and shot. His body is thrown out of the aircraft at Beirut Airport, Lebanon.
June 19            El Salvador
Four U.S. Marines and two American businessmen are gunned down at an outdoor cafe in San Salvador. A total of 13 people are murdered.
June 23            Over the Atlantic Ocean
An Air-India flight explodes over the Atlantic Ocean, killing everyone aboard including four Americans.
August 8           West Germany
A powerful car bomb explodes at the U.S. Rhein-Main Air Base near Frankfurt. The blast kills one U.S. airman and the wife of another. Fifteen other Americans are injured.
Minutes before the blast, the body of an American soldier is discovered near Wiesbaden. His identify card had been stolen. Authorities believe the I.D. was used to gain access for the bomb-laden car at Rhein-Main Air Base.
October 7        The Mediterranean Sea, Near Egypt
The Italian cruise ship Achille Lauro is hijacked by Palestinian terrorists. A 69-year-old American tourist is murdered and thrown overboard.
The four terrorists are apprehended when U.S. Navy fighters intercept the aircraft carrying them to safehaven.
November 23   Greece
Egyptair Flight 648 enroute to Cairo is skyjacked 20 minutes after takeoff from Athens. One U.S. Air Force civilian employee is murdered and two other Americans are seriously wounded. A total of 60 persons are killed during the rescue effort.
November 24   West Germany
A U.S. military shopping mall in Frankfurt is bombed, wounding 32 people including 23 Americans.
December 27 Italy
Rome's airport is attacked by terrorists armed with grenades and automatic rifles. Seventy-three people are wounded, 15 are killed, including 5 Americans. One of the Americans is an 11-year-old girl.
Austria
Minutes after the Rome massacre, terrorists strike the Vienna Airport. Three are killed and 41 wounded. Two of the wounded are Americans.
December 31   Lebanon
At the close of 1985, six American citizens continue to be held hostage.
<![if !supportEmptyParas]> <![endif]>
<![if !supportEmptyParas]> <![endif]>
<![if !supportEmptyParas]> <![endif]>
1985 U.S. Victims of
International Terrorism
<![if !supportEmptyParas]> <![endif]>
23 Dead
160 Wounded
<![if !supportEmptyParas]> <![endif]>
<![if !supportEmptyParas]> <![endif]>
<![if !supportEmptyParas]> <![endif]>
<![if !supportEmptyParas]> <![endif]>
"We the people of the United States, in order to form a more perfect union, establish justice, insure domestic tranquility, provide for the common defense, promote the general welfare, and secure the blessings of liberty to ourselves and our posterity, do ordain and establish this Constitution for the United States of America."
The basic principles of freedom, justice and concern for human life on which our nation was founded have survived major threats during the course of America's history. Today, we face a unique and pervasive challenge to these ideals in the form of terrorism, an increasingly serious threat to the United States and its friends and allies around the world.
<![if !supportEmptyParas]> <![endif]>
Terrorism is a phenomenon that is easier to describe than define. It is the unlawful use or threat of violence against persons or property to further political or social objectives. It is generally intended to intimidate or coerce a government, individuals or groups to modify their behavior or policies.
The terrorist's methods may include hostage-taking, aircraft piracy or sabotage, assassination, threats, hoaxes, indiscriminate bombings or shootings. Yet, most victims of terrorism seldom have a role in either causing or affecting the terrorist's grievances.
Some experts see terrorism as the lower end of the warfare spectrum, a form of low-intensity, unconventional aggression. Others, however, believe that referring to it as war rather than criminal activity lends dignity to terrorists and places their acts in the context of accepted international behavior.
While neither the United States nor the United Nations has adopted official definitions of terrorism, Americans readily recognize the bombing of an embassy, political hostage-taking and most hijackings of an aircraft as terrorist acts. They realize that terrorism needs an audience; that it is propaganda designed to shock and stun them; that it is behavior that is uncivilized and lacks respect for human life. They also believe that terrorism constitutes a growing danger to our system, beliefs and policies worldwide.
<![if !supportEmptyParas]> <![endif]>
The motivations of those who engage in terrorism are many and varied, with activities spanning industrial societies to underdeveloped regions. Fully 60 percent of the Third World population is under 20 years of age; half are 15 years or less. These population pressures create a volatile mixture of youthful aspirations that when coupled with economic and political frustrations help form a large pool of potential terrorists. Many terrorists have a deep belief in the justice of their cause. They are tough and vicious and may have little regard for their own lives or those of their victims in attempting to achieve their goals. Others may even be hired assassins.
Terrorists generally get their weapons from a largely unregulated international arms market but also resort at times to illegal methods. They acquire timely information on targets and countermeasures. Lately, they have resorted to unprecedented violent attacks and, when government security efforts against them become more effective, they simply shift to easier targets.
While there are several ways to categorize terrorists, for purposes of this report three main categories are used: self-supported, state-sponsored or aided, and those individuals who may engage in terrorism for limited tactical purposes.
Self-supported terrorists primarily rely on their own initiatives, such as extortion, kidnapping, bank robberies and narcotics trafficking to support their activities.
Terrorists lacking state sponsorship, aid or safehaven tend to be extremely security conscious, keeping their numbers small to avoid penetration efforts.
State-sponsored or aided terrorist groups frequently are larger in numbers, have the advantage of protection by state agencies and are able to access state intelligence resources. Because of this host country-provided safehaven and the compartmented operations of terrorist organizations, it is extremely difficult to penetrate such groups. Moreover, they are subject to limited control by their sponsors and may be expected to carry out attacks for them.
The reasons for state support and use of such groups are many. Terrorism has become another means of conducting foreign affairs. Such terrorists are agents whose association the state can easily deny. Use of terrorism by the country entails few risks, and constitutes strong-arm, low-budget foreign policy. Growing government assistance in arms, explosives, communications, travel documents, safehaven and training of fanatics are the types of aid that state-supported terrorists receive.
Some individuals or groups may choose to engage in terrorist violence in the context of activities such as national insurgency, especially when they may be losing a conflict, to try to create a special effect, embarrass opposing leadership, or change the pace of events.
The most deadly terrorists continue to operate in and from the Middle East. In 1985 they were involved in roughly 50 percent of the total worldwide terrorist incidents. The two main sources are militant Shi'ites from various Middle Eastern countries, especially Lebanon, supported to varying degrees by Iran or Syria; and radical Palestinian elements, principally offshoots of the Palestine Liberation Organization (PLO), often with direct support from Libya, Syria or Iran. Others, such as independent agents of governments like Libya, also conduct terrorist operations.
Middle East terrorist groups have three main targets: Israel; Western governments and citizens, particularly the United States, France, Italy, and the United Kingdom; and moderate Arab governments and officials, particularly those of Jordan, Egypt, Kuwait and Saudi Arabia.
Many terrorist organizations have continued to operate in Europe during the past decade, including the Italian Red Brigade, French Direct Action, German Red Army Faction and the Provisional Irish Republican Army. The latter has been and remains the most active.
<![if !supportEmptyParas]> <![endif]>
Geographic Distribution of
International Terrorist Incidents
<![if !supportEmptyParas]> <![endif]>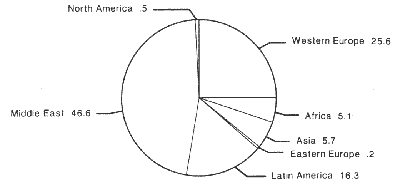 <![if !supportEmptyParas]> <![endif]>
<![if !supportEmptyParas]> <![endif]>
Established leftist groups in Spain, Portugal and Greece continue their terrorist campaigns, while a new group has surfaced in Belgium, a country hitherto relatively free from terrorism. Recently, there have been disturbing indications that leftwing terrorists of several nationalities are beginning to cooperate and coordinate their attacks. Of the 812 incidents worldwide in 1985, over 200 took place in Western Europe.
In Latin America, social, economic and political turmoil have prolonged existing patterns of insurgency as well as international and domestic terrorism in several countries, particularly El Salvador, Colombia, Guatemala, Chile and Peru. Nicaragua and Cuba also have been implicated in terrorist activity in the region. During 1985 there were more terrorist incidents (86) directed at U.S. citizens in Latin America than anywhere else.
Certain governments have demonstrated a growing propensity to use, support and exploit terrorism as an instrument of national policy. This trend toward the alignment of interests between certain states and terrorist groups has markedly elevated threat levels worldwide, as state and financial resources have expanded terrorists' capabilities.
<![if !supportEmptyParas]> <![endif]>
Terrorism is as old as recorded history, but the past two decades have witnessed a dramatic increase in international terrorist acts by people and by governments in the pursuit of their goals. The past year saw the number of terrorist incidents reach a high of 812.
<![if !supportEmptyParas]> <![endif]>
International Terrorist Incidents
1980- 1985
<![if !supportEmptyParas]> <![endif]>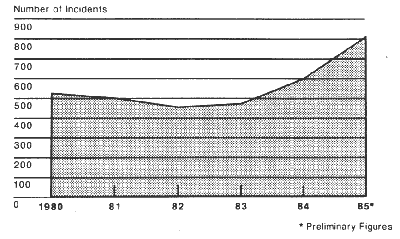 <![if !supportEmptyParas]> <![endif]>
Half of the worldwide incidents in the 1980s were aimed at only 10 countries; one-third of the total were targeted directly at the United States. The number of terrorist acts has generally risen since official statistics were first compiled in 1968, with a trend toward bloodier incidents with more fatalities. Attacks caused 20 fatalities in 1968 compared to 926 in 1985.
Incidents in 1985 demonstrated that terrorism is increasingly directed against the Western democracies. The June 14, 1985, hijacking of TWA Flight 847 shortly after it left Athens was the first hijacking of a U.S. airliner in the Middle East since 1970. In addition, the hijackings of Egyptair Flight 648 and the Achille Lauro, the bombing of a restaurant on the outskirts of Madrid frequented by American servicemen and the shooting of the off-duty Marine Corps personnel in El Salvador demonstrate that Americans are being specifically targeted. The year ended with the brutal attacks in the Vienna and Rome airports where five Americans were murdered.
During the past decade, terrorists have attacked U.S. officials or installations abroad approximately once every 17 days. In the past 17 years, terrorists have killed as many U.S. diplomats as were killed in the previous 180 years.
<![if !supportEmptyParas]> <![endif]>
U.S. Casualties Resulting From
International Terrorist Incidents
1980-1985
<![if !supportEmptyParas]> <![endif]>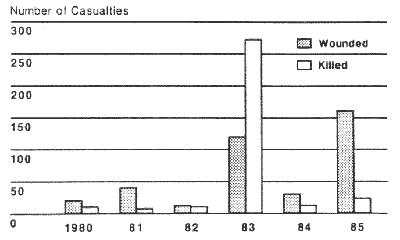 <![if !supportEmptyParas]> <![endif]>
In 1982, a total of 57 attacks were directed against U.S. military personnel, resulting in two deaths. In 1983, even more incidents occurred (65), and 241 deaths resulted from one incident. In that bombing of the U.S. Marine barracks in Beirut, the United States lost nearly as many servicemen as the British lost in the entire Falklands campaign.
<![if !supportEmptyParas]> <![endif]>
While the number of terrorist acts outside our borders increased dramatically in the last three years, incidents within the United States have declined from 51 acts in 1982 to only seven in 1985. And while 23 Americans overseas lost their lives to terrorists last year, only two citizens were killed within our own borders. This can be attributed in part to the success of the Department of Justice and Federal Bureau of Investigation (FBI) in their counterterrorist activities. Additionally, it appears that international terrorist groups find it easier and safer to target Americans overseas rather than within the United States. In 1985, there were 23 terrorist incidents prevented in the United States by the timely action of the FBI and other law enforcement agencies.
FBI efforts in 1985 included the foiling of a plot to assassinate Prime Minister Rajiv Ghandi of India while visiting the United States; the uncovering of a pro-Qaddafi conspiracy to carry out three assassinations and to bomb strategic locations in the United States; the interdiction of a Sikh assassination plot in New Orleans; and the prevention of planned bombings in India by the same group.
<![if !supportEmptyParas]> <![endif]>
Terrorist Incidents in the United States
1980-1985
| | | | |
| --- | --- | --- | --- |
| Date | Total Incidents | Killed | Injured |
| 1980 | 29 | 1 | 19 |
| 1981 | 42 | 1 | 4 |
| 1982 | 51 | 7 | 26 |
| 1983 | 31 | 6 | 4 |
| 1984 | 13 | 0 | 0 |
| 1985 | 7 | 2 | 10 |
<![if !supportEmptyParas]> <![endif]>
Over the years the FBI has become increasingly involved in "special events" of national and international interest that take place in the United States and which could serve as an attractive target against terrorism. The Pan American games in San Juan, Puerto Rico, were the first such event where the FBI took precautions against terrorism. Others have been the New Orleans World's Fair and the two 1984 national political conventions in San Francisco and Dallas.
The 1984 Olympic Games in Los Angeles, with a record 140 countries participating, received close scrutiny by the FBI and other federal agencies. The federal law enforcement community worked in conjunction with local and state officials to coordinate the flow of intelligence regarding possible terrorist movements and attacks. Contingency plans were developed for an emergency response to any incident that might have occurred.
Despite this outstanding track record in combatting terrorism internally, our vulnerability remains. In fact, while the losses from terrorist attacks are minimal compared to the 40,000 highway deaths or 18,000 murders that occur annually in this country, there is more at risk than the senseless loss of lives.
Terrorism is political theater designed to undermine or alter governmental authority or behavior. The apparent inability of established governments to respond effectively to incidents affects the confidence of citizens and allies alike. America's foes take comfort in the apparent weaknesses of our society that terrorism exposes.
Our vulnerability lies, ironically, in the strength of our open society and highly sophisticated infrastructure. Transportation, energy, communications, finance, industry, medicine, defense, diplomacy and government itself rely on intricate interrelated networks. Given these inherent vulnerabilities, and the fact that Americans are increasingly the targets of terrorist attacks outside the United States, it is apparent that a potentially serious domestic threat exists. Recent threats such as Qaddafi's statement that Libyans will attack "American citizens in their own streets" only serve to underscore this worsening climate.
<![if !supportEmptyParas]> <![endif]>
<![if !supportEmptyParas]> <![endif]>